The NOAA Storm Prediction Center (SPC) issued a high risk for the 14th of April two days before the event took place. The overall area with moderate to high risk for severe thunderstorms and tornados already suggested that this day would become very tensing. Not only from a synoptical point of view.
With this post I just want to sum up a little bit of the material that is out there in the net. Meaning links, radar images, satellite pictures and tornado images and videos of course. Feel free to add anything that is missed in the post in the comment section.
Let's begin with the impressive SPC storm reports map very well showing the affected area, mainly Kansas and Oklahoma:
Synopsis
A eastward moving upper through intensified a surface cyclone in the Left exit region of a jet streak. This pattern as displayed below resulted in favourable conditions for severe thunderstorms. Moist air originating from the Gulf of Mexiko was advected northwards and good deep layer shear was present. CAPE exceeding 2000 J/kg was predicted. A sharp dryline moved across Kansas and Oklahoma throughout the day.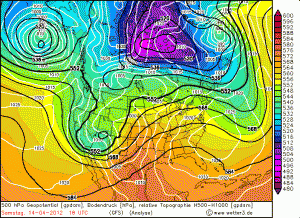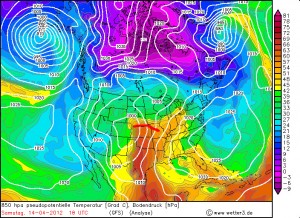 (ThetaE in 850hPa. The warm sector is clearly visible with a sharp dryline to the west.)
Satellite loop:
Radar loop (Kansas, Northern Oklahoma):
Tornado videos
More stuff
NOAA SPC outlook for 14 April 2012 from 13UTC: http://www.spc.noaa.gov/products/outlook/archive/2012/day1otlk_20120414_1300.html
U.S. Tornadoes – Verification: http://www.ustornadoes.com/2012/04/15/april-14-2012-outbreak-forecast-verification/
U.S. Tornadoes – Videos of Tornados from 13. to 15. April: http://www.ustornadoes.com/2012/04/14/videos-from-the-april-13-april-14-and-april-15-2012-tornado-outbreak-sequence/
Great Live-Blog of the Event from stormchasermovies.com: http://stormchasermovies.com/april-14th-2012-severe-weather-outbreak-tornado-nebraska-kansas-oklahoma/
Posted in Current Weather Events |
Last modified: April 17, 2012
Trackback-URI: