A quasi-stationary through lies west to Germany with a refilling surface low over Britain. Southwesterly wind in higher levels overlays rather weak surface winds with a convergence zone forecasted reaching from the North sea over central Germany to the Alps.
The best chances for thunderstorms in Germany today refering to WRF00Z is seen in an area between Hamburg and the North Sea as well as in the Southern part of Bavaria and Baden-Wuerttemberg.
In the Southern part of interest nearly no shear exists and only little storm motion is supposed. Therefor the greatest risk may result from small-scale heavy rain. 4km WRF0Z suggests up to 20mm in 3h with some cells.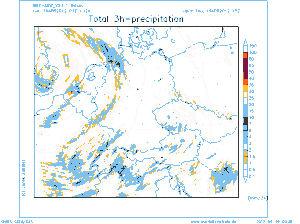 PPW lies between 10 and 20 mm with higher values in the northern area. Anyhow faster moving cells should mitigate the risk of heavy rain.
MLCAPE of about 250 J/kg is expected. Therefore the overall conditions for a greater thunderstorm outbreak are not very well. Nonetheless some thunderstorms in the Western part may occur with the highest likelihood in the area outlined above. When occuring storms should be short-lived and not very organized.
For all Google Earth Users the latest "Convective Discussion" can be downloaded from: http://www.meteo-blog.net/discussions/convective/latest.kmz (experimental)
or in web-view: http://www.meteo-blog.net/latest-convective-discussion/
Verification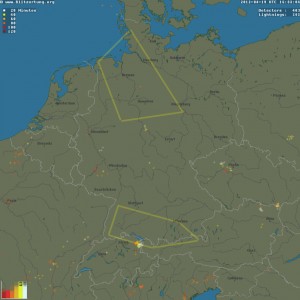 (Blids data from Blitzortung.org)
Blids images were overlayed in half-hour steps until 16:33 UTC. As the comparison of blids shows some cells in the Western part of Germany were underestimated.
Posted in Convective Discussions | Tags: Convective Discussion
Last modified: April 20, 2012
Trackback-URI: